Dip Net Frame Features:
Custom made from lightweight, yet strong 6061-T6 aluminum.
Light work load frames have two tubes of aluminum inserted inside each other creating double-walled reinforcement.
Medium work load and heavy work load frames have three layers of aluminum tubing for triple-walled reinforcement. This adds exceptional strength to this critical area.
Machined aluminum handle receiver is press fit onto the frame for maximum strength and endurance in heavy lifting situations.
All openings are plugged to keep water out and allow for flotation.
Heavy duty, fitted polyethylene net-guard comes standard on all N&K Dip Nets frames to reduce abrasion from tanks, rocks, and other debris, providing longer bag life.
We offer seven frame circumferences ranging from 28" to 101" in five basic shapes:
• Square Corner Rectangle
• Round Corner Rectangle
• Trapezoid
• Narrow Trapezoid
• Oval
We have specialty frames available including:
Industrial Scoop Nets

Net your fish quicker and easier with our "scoop" frame
Front of the frame angles upward to create a scoop. Fish are drawn down inside.
Reinforced with extra support on the front edge — yet still lightweight to use.
Narrower and longer than our other 55″ circumference frames.
A great option for scooping bait fish.
         Weighing Dip Nets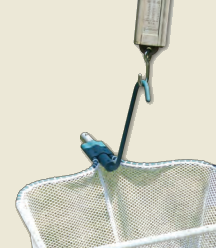 Allows for one-step weighing.
No need to transfer fish into a weighing bucket.
Evenly balanced for easier handling and quicker results.
Weighing arm rests on frame when not in use.